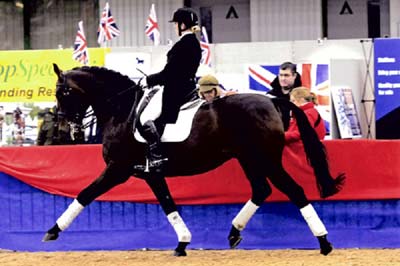 The property of Mr & Mrs A G Loriston-Clarke Champion BWBS Stallion 1995 and Best British Bred Reserve Champion SHB – GB Grading 1998 & Best British Bred NASTA Elite Performance Tested Stallion Advanced Eventing Stallion International Small Tour Dressage 16.1½hh/1.65m 9¼" bone Mahogany Bay Grade II BWBS No WH132 BHD No 2098
Concessions for graded and winning mares Natural Cover, Chilled and frozen semen available. Stud Fee: £500.00 incl VAT
Catherston Liberator
This outstanding horse is bred from classical lines with a thoroughbred sire who is touch, sound and raced for 8 years, out of a Grade B mare who has proved herself as an outstanding jumper.
This beautiful horse has really shown the power and athletic ability her possesses.  He is a very good looking horse standing on beautiful limbs with hard flat bone.  He has short cannon bones and strong active hocks set well under him, a lovely head well set on to a strong well-arched neck with good shoulders.
Catherston Liberator is standing at the Langaller Stud in Devon for 2016, but frozen semen is available at Catherston or for export from West Kington Stud.
Liboi
Tom Rolfe

Latin Walk

Ribot (XX)

Pocahontas (XX)

Roman Tread (XX)

Stall Walker (XX)

Catherston Jetstream
Jashin

Catherston Dutch Sika

Le Faquin (XX)

Era

Dutch Courage

Welton Gazelle
Catherston Liberator competed up to advanced level dressage gaining over 435 points including being awarded Best Young Dressage Stallion by his own winnings 2 years in a row by the Supporters of British Breeding. Catherston Liberator, like his mother, has always shown a talent for jumping. He has won £346 BSJA in very few outings including 2nd in a Grade C when partnered by young rider Lee Williams. In the winter of 2001 he qualified for Hickstead and the Finals of the BSJA Winter Novice Championships with event rider Marcus Reid In 2002 Catherston Liberator turned his talents to Horse Trials and he has made quite an impression.
He won Bovington Pre-novice on his second outing, followed by a win at Novice level on his next outing at Tidworth. His next run saw him finish 12th at the CIC* at Mattingley having led after cross-country and dressage stages. He finished the season in convincing style by winning Aldon 2 day Event by 11 points clear of his nearest rival. He started the 2003 season with 19 points and notched up a win at Tweseldown Novice, followed by three in a row at Intermediate – Somereley Park, Longleat, and Wilton. Catherston Liberatorhas 66 points making him advanced in less than one and a half seasons and causing Horse & Hound to describe him as 'one of the most exciting event prospects this season'.
Catherston Liberator suffered a slight injury after Wilton and the decision was made to retire him from Horse Trials as he had proved his worth. However he continued to compete in dressage, teaching several young riders the ropes and has retired to Devon where he stood at Lanagller farm in Bovey Tracey for 5 years. He has now returnd to stand at Catherston and being in such good form, he was re-registered with British Dressage. Showing Jennie's granddaughter how to ride the Advanced Medium Junior test has been his next job at the ripe age of 21 years which he is thoroughly enjoying. He won the Veterans Class at the National Hunter Show 2013 with Jennie and a combined age of 90!. In the British Eventing Sire Rankings for 2013 Catherston Liberator is 20th for all points (531) and 10th in the Young Horse Sire Rankings for 4 to 8 year olds (397 points)
BREEDING
Sire Liboi, won 10 races and was placed 23 times. He ran in 71 races on the flat and over hurdles from 1 mile to 2,5 miles and retired sound at 10 years. He was 1st & Champion TB Stallion, Ponies of Britian Show 1984 & 85. Supreme Champion Stallion over 14.2hh. 1st & Res Ch. Essex County Show 1987. Liboi is the sire of several winners on the flat and over hurdles including Tom Rum, Mansio & Incola. In the show ring Track Marshall Llibretto Qualified Small Show Hunter RIHS & HOYS 1989, 1990 & 1991. 1st New Forest 1990. and RIHS 1991, 3rd HOYS 1991. Track Marshall Lovliboi, Hack, Qual RIHS & HOYS 1989,1990,1991. 1st & Champ. Midlands County 1989, 1st & Champ. Royal Windsor 1990, 2nd HOYS 1990, 1st & Champ East of England, 2nd Royal Windsor, 3rd HOYS 1991. Broadstone Argentina 1st Nottingham County, 1st & Res Ch. Shropshire & W Midlands, 3rd East of England, 1St National Hunter Show. Catherston Humbug, Graded stallion & Grand Prix Dressage Horse.
DAM Catherston Jetstream, is by the Dutch graded stallion Jashin who is the sire of Sunny Boy (Olympics 1988) and Beau Bravado. Catherston Jetstream has proved to be a brilliant jumper winning over £1,900 in only a few years of competing. She won the Wilwyn Championships at Royal Windsor and qualified HOYS Grade C and Foxhunter Championships in 1998 when ridden by James Fisher. She was also 3rd in the Young Rider Championships at Olympia in 1999 ridden by the talented Lee Williams. Catherston Jetstream has bred five foals. Dam of Catherston Dream Machine Res Overall Champion and Best Potential Dressage Horse in the inaugural BEF Futurity/Evaluations. Catherston Dream Machine was the dam of Catherston What a Dream, International Small Tour Dressage horse and Silver Medal winning BWBS mare. Catherston Springstream Champion Hunter Foal, Ch Now jumping Discovery & Newcomers £55 BSJA winnings in a few outings. Grand Dam:- Catherston Dutch Sika, by the Dressage World Bronze Medallist Dutch Courage, lost an eye as a foal and was never competed Gt Grand Dam:- Welton Gazelle an Advanced eventer and also the dam of the stallion Summersong who was 8th at Badminton, took Silver Medal in the World Equestrian Games in 1998 and was in the French Olympic team with Marie Christine Duroy Catherston Liberator possesses the refinement of the thoroughbred and the athletic ability of the warmblood to present a truly active elastic horse that has the ability in the dressage arena and the show jumping ring. At the British Warmblood Stallion Show 1998 he was Champion Young Dressage Horse and Champion Young Show Jumper – what more do you want?!
In 2001 he was winner of the H.I.S. Henry Tudor Cup for the Stallion with the highest fertility in the previous season. His first foals show very athletic paces with a lot of scope in their movement. They have great carriage and a lot of presence like himself. He really stamps his stock and is a stallion to be noted by the discerning breeder wishing to produce a top class competition horse capable of competing in all three disciplines.
PROGENY
Offspring Liberator has stock competing in all disciplines but is best known for eventers. He has two Advanced stock, The Earl of Belvedere 136 BE points, including 6th at Pau, 4th South of England, and 3rd at Richmond and Supa Splashdown –68 BE points and 86 BE Futurity points including 4th at Wellington Advanced 9 year old. Of his 12 Intermediates TREVARTH – 78 FP, 52 BE winning Intermediate at Burnham Market & double clear at Houghton CCI*, XAVIER FAER – 41 BE with 2nd at Somerford Park & 9th with a double clear at the Young Horse CCI** Championships. BURLYNS AD LIB – 28 BE and 5th at Wilton, J'S FREE SPIRIT – 46 FP, 52 BE – 3rd at both Aston Le Walls & Belton, HOWICK FREEDOM 29BE with 3 top 6 Intermediate placings last autumn and the very exciting half brother to Borough Penny Z, BOROUGH FREE FLIGHT 23 BE & 62 FP and top 7 placings at 11 of her 12 events this year including 3rd at the Young Horse Championships YH* (CIC) Littledale Hallmark – 1st BE90 Regional Final, 2nd JAS Final. Cornish Liberty- 77 FE, 26 BE BIT OF A TWIST- 1st BE90 Southwell. CELTIC STORM II- 21 BE. DENFORD LYRIC- 96 BD, 22 BE. FREE AS AIR II- 22 FP. JESTER'S LIBERTY- 26 BE. JUST A GIGGLE- 36 BE, 17 BD – 1st IN Nurstead Court, 4th Aldon Int 3DE, 1st Tweseldown Nov. LIBBYSAURAUS – 38 BE- 4th BE 6yo Firle Place, 1st BE100 Brightling. LIBERAL LADY – 34 BE – 3rd Under 21 Hambleden, 1st Isleham Nov. LIBERATION 11 – 76 FP. LIKE A PRAYER – 228 BD. LIQUIDATOR BE – 86 FP. MICROBURST – 48 FP, 8 BE. THE LIBERTINE – 31 BE – 6th Aldon Int 3DE, 3rd Mount Ballan Nov. Also Jamberoo Hootoo Qualified HOYS & RIHS Coloured Horse Championships