Learn More
Lessons are available for all levels of riders with their own horses.  Lessons are for a duration of 45 minutes and bespoke to the combination concerned.
Lessons with Jennie Loriston-Clarke, FBHS, BD UKCC Level 3 Coach are £70, with Anne Dicker BHSII, International Level 3 Riding Instructor & BD UKCC Level 3 Coach £35 for external clients and £33 for residents at Catherston and are payable to the insctuctor.
Occasionally some of the Catherston Staff teach and their lessons are £25 payable to Catherston.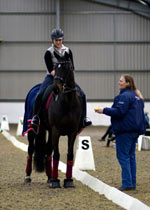 Learn More
Horses and ponies can come to Catherston for residential schooling. These packages are individually designed for the horse concerned and what the owner would like the horse taught. We can cater for all types and disciplines. These courses can be for a few days or for a longer period of time and can be for specific problems or introducing new movements.
We can also school the horse for a period and then train the rider with the horse so that all are going forward together.
We also take youngsters in for backing to be ridden.
Learn More
Catherston can train your horses for all levels of dressage and for specific competitions. If you need help with your test riding, show preparation, music test riding etc just give us a ring and we will discuss your requirements.
We can also train and compete your horse for you in all levels of dressage, showing, ridden or in hand or train the horse for you to compete yourself.